We are experts in our trade. Passion is what drives us everyday, trust us with your next project and you will experience what sets us apart. If you don't see what you are looking for below give us a call or shoot us an email for a quote!
Primary Service Areas
"Call us for a complete list of our service area coverage and a free estimate"
Abilene, TX
Anson, TX
Sweetwater, TX
Albany, TX
Lubbock, TX
Stephenville, TX
Snyder, TX
San Angelo, TX
Cisco, TX
Stamford, TX
And Neighboring Counties
Asphalt Sealcoating & Crack Sealing

Seal coating is a protective layer applied to an asphalt surface. When Asphalt turns from black to gray (ghosting) it becomes susceptible to water and the sun's UV rays. Not having a protective layer of Seal Coat is analogous to muscle not being covered by skin. Asphalt will develop cracks, which let in moisture and at that point the cracks get larger and entire areas can become alligatored and then the notorious potholes are created.
We Seal Coat with an industry specific product that is Airport grade and DOT approved.

Call me and I will explain to you why our product is far superior to other companies.
Asphalt Paving

B&R Asphalt provides services for both residential and commercial properties. Our customers are the backbone of our business and we will give you our full attention. Whatever the problem, we are there from start to finish. Give us a call or email us and we will come to your location and give you a free estimate. We can do a new build parking lot from the dirt up or overlay the existing asphalt.
If potholes are the problem, we can repair them with hot mix. We do not use cold mix. It just doesn't last. We pride ourselves in our work and take every job personally. Give us a call and check out our list of clients on this website.
A chip sealed road is just like the hard surfaced county roads in Texas. It is very durable and long lasting.
On our first pass, we spray hot tacky emulsion, then we come through and drizzle our rock. At that time it rolled it in order to press the rock into the emulsion. We repeat that procedure once more, so that you'll have two solid courses of rock. It is of great economic benefit and no more dust and mud!
Line Striping

Do you need to make your parking lot look better but you don't know where to turn? Call us now for more information and a free estimate. We offer a wide range of striping services for your needs. We do parking lot striping, fire lanes, handicap logos and whatever needs you might have.
Concrete Services

At B & R Asphalt, we take pride in our exceptional concrete work. We deliver high-quality concrete solutions that are built to last. Whether you need concrete foundations, driveways, patios, or sidewalks, we have the knowledge and expertise to get the job done right. We want to help you ensure that your project is completed on time, within budget, and to your exact specifications. Don't settle for mediocre concrete work - trust the experts at B & R Asphalt for exceptional results every time."
Pressure Washing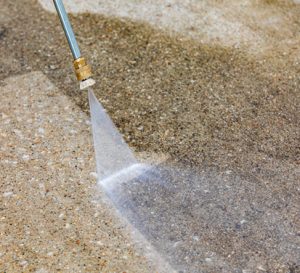 You can get the power washing solutions you need in one convenient location, from deck washing, concrete washing and even pressure wash the exterior of your house or business . Give us a call and take care of everything in minutes right over the phone. We'll help you determine your needs, explore your options, and walk you through the entire process.